Events
ACHEMA 2018
Jun. 11, 2018 - Jun. 15, 2018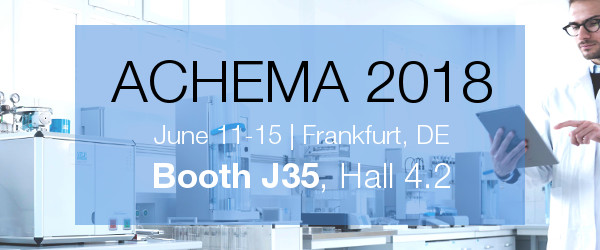 VELP Scientifica will exhibit at ACHEMA 2018, in Frankfurt from the 11th to the 15th of June 2018. Step by our booth J35 Hall 4.2 and take a look to our products and latest innovation.
The show is a great opportunity to meet our experts that will introduce you the 2018 VELP products and solutions of Food & Feed Line, Stirring Line and Environment Line.
On Tuesday 12 June at VELP booth J35 Hall 4.2 from 5 PM to 5.30 PM to the Premiere Presentation of 2018 solutions.
We expect a lot of visitors therefore, in order to optimize your time and ours and attend you with the appropriate attention, be kind enough as to fix a meeting (if not already done) with your usual VELP executive.
Would you like to schedule a meeting? Send an e-mail to: velpitalia@velp.it
Don't miss the chance to get in contact with VELP world during the most important event of the year!
Other Events
ACS 2018

Boston, Massachusetts

19-23 August 2018

India Lab Expo, Analytica Anacon India 2018

Hyderabad, India

6-9 September 2018

SILAE 2018

Milazzo, Italy

9-13 September 2018

ASIALABEX 2018

Gujarat, India

27-29 September 2018

H2O 2018

Bologna, Italy

17-19 October 2018

ANALYTICA China 2018

Shangai, China

31 Oct - 2 Nov 2018

Turkchem 2018

Istanbul, Turkey

8-10 November 2018

CPhI & P-MEC 2018

Greater Noida, India

12-14 December 2018

Analytica Vietnam 2019

Ho Chi Minh City, Vitnam

3-5 April 2019
Contact
Via Stazione 16
20865 Usmate (MB)
ITALY
Tel. +39 039 62 88 11
Fax. +39 039 62 88 120