News
Hot Plate Stirrer Accessories for Clean and Safe Reactions in your Lab
Nov. 23, 2017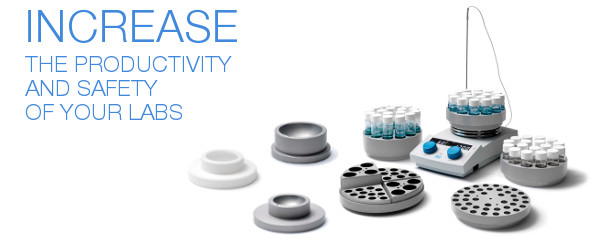 Laboratories need solutions to perform safe, clean and controlled reactions with round bottom flasks and vials. VELP has designed a set of accessories for ARE/AREX-6 Series hot plate stirrers to avoid the risk of heating mantles and oil bath. Silicon oil in fact, leads to flask contamination, has a high environmental impact and a cost of disposal.

The MultiAlublock™, MonoAlublock™ and Hemispheric Bowls are made of anodized aluminum ensuring safe and clean reactions with maximum heat transfer, saving bench space and guaranteeing the highest heating&stirring performance.

With MonoAluBlock™ it is possible to heat and stir in parallel vials of the same dimensions, such as 12 or 28 mm diameter. The MonoAluBlock™ offers simultaneous synthesis of 17 or 40 vials. Whereas MultiAluBlock™ can accommodate your preferred mix of vials choosing between: 12, 15, 17, 21 and 28 mm diameter. You can choose the preferred Alublock, depending on the number of vials and their diameter, that are kept in place by the MultiAluBlock™ base.

The Hemispheric Bowls are designed to perfectly accommodate the round bottom flasks, drastically reducing the risk of movement, and come in different sizes for maximum versatility (50, 100, 250, 500, 1000 ml). In addition, VELP has introduced a complete range of PTFE Safety Covers available for all the sizes of the hemispheric bowls in order to minimize thermal dispersion and perform safe analysis protecting the operator from possible burnings. In addiction, the useful Alublock removal device protects you from potential burnings and save your time.

Download the ARE/AREX-6 Series Brochure to discover the complete offer.

Contact us for further information.
Contact
Via Stazione 16
20865 Usmate (MB)
ITALY
Tel. +39 039 62 88 11
Fax. +39 039 62 88 120