News
TAKE A LOOK TO THE NEW FIWE ADVANCE THE FIBER ANALYZER OF ANIMAL FEED
Sep. 19, 2019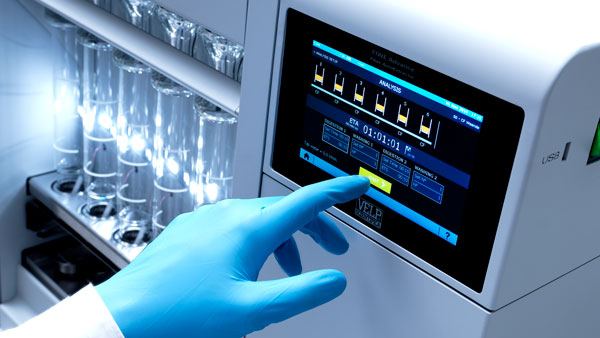 VELP introduces the FIWE Advance, the fully automatic and cloud enabled instrument for the determination of crude and detergent fiber in animal feed according to official reference methods (ISO and AOAC). Accurate and reproducible results are what a scientist of the animal feed industry needs for fiber determinations to meet the requirements of product labeling and quality control and the FIWE Advance is the ideal solution designed by VELP Scientifica.
We have designed the FIWE Advance to allow labs to save time and money through automation. Load&Go operation require less than 2 minutes of the operator's time compared to more than 55 minutes needed with a semi-automatic analyzer. All the fiber analysis steps are completely automated and standardized for maximum analysis repeatability.
During the digestion step, the FIWE Advance is able to automatically adjust the heating power to ensure gentle boiling. A State-of-the-art filtration control guarantees proper filtration in all conditions thanks to innovative sensors. Draining and rinsing no longer require manual operations. All residues are automatically driven to external waste tank.
A bright 7-inch touch screen and the intuitive VELP User Interface make it fast and easy to program and manage the analysis with one-click start. FIWE Advance multiple connectivity options allow to transfer the data from the balance to the analyzer avoiding manual transcription errors and the VELP barcode technology expedites data collection.
The FIWE Advance can benefit from the connection to the VELP Ermes cloud platform to monitor and control the instrument anytime, anywhere. The instrument is designed to adapt over time with regular software updates, introducing new features, functionality and performance.
Contact
Via Stazione 16
20865 Usmate (MB)
ITALY
Tel. +39 039 62 88 11
Fax. +39 039 62 88 120