CN 802 Carbon Nitrogen Analyzer
A versatile and cloud enabled elemental analyzer able to perform precise carbon and nitrogen analysis in 4 to 5 minutes. It is the ideal solution for high throughput offering complete safety to operators.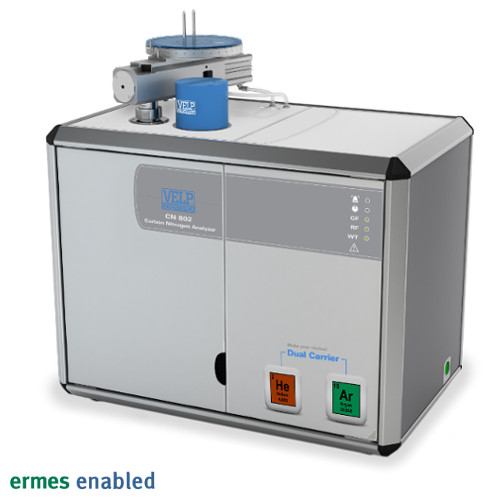 Productive
Flash determination of carbon and nitrogen content
Determination of TC, TOC (after acidification), TIC, TN and Carbon/Nitrogen Ratio
Automated analysis of preloaded samples (117 positions)
Totally unsupervised operation
Results produced 24/7/365
Precise
NDIR Detector (Non Dispersive Infrared) to detect Carbon concentration
LoGas™ TCD with no reference gas required, for Nitrogen content
Unmatched LOD: Carbon 0.01 mgC, Nitrogen 0.001 mg N (using He) or 0.01 mg N (using Ar)
RSD less than 0.5% with EDTA standard
Conforms to Good Laboratory Practice standard
Leak tests (zone or total) ensure optimum performance
Versatile
Operates with Argon and Helium as carrier gas without any hardware modification
Preinstalled methods with element selection (C,N and C/N)
Controllable from PC by the powerful CNsoft™ software
Clear and detailed reporting software
Data storable in multiple formats for LIMS or PC
Economical
Exceptionally low cost per analysis
Premium quality consumables
Low energy consumption with Stand-by and Sleeping mode
Lowest operator costs
Environmentally Friendly
Minimum possible waste & residues
Optimized life of consumables
Incorporates TEMS™ technology*
Cloud-Enabled Instrument
Real time monitoring and notification via VELP Ermes Cloud Platform
Effortlessly connect your CN 802 to the cloud in complete safety
Immediate Software Updates (OTA)
Access to your data via PC, smartphone and tablet
Create and share reports, track trend and get useful insights



*Saving Time, Energy, Money & Space
Video
VELP CN 802 Carbon Nitrogen Elemental Analyzer
The VELP Scientifica CN 802 is the accurate and precise combustion analyzer for simultaneous Carbon and Nitrogen determination in diverse organic matrices in just a few minutes. The CN 802 is a robust and flexible combustion analyzer that works in accordance with official reference methods for the determination on Carbon and nitrogen in many industrial sectors such as: agriculture, environmental, food & feed and chemical.
Contact
Via Stazione 16
20865 Usmate (MB)
ITALY
Tel. +39 039 62 88 11
Fax. +39 039 62 88 120