OHS 100 Advance Overhead Stirrer
Cloud enabled overhead stirrer with 100 Ncm constant torque, timer, vibration sensor, 3,5" TFT display and Pt 100 probe included. Maximum reproducibility and safety for demanding operations.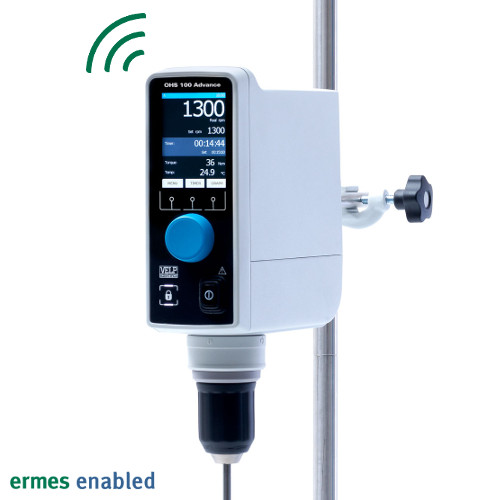 Safe Operations
Extremely resistant sealed case
IP 54 Protection class is a guarantee of durability also when working in aggressive environment
Full protection in case of overload, overtemperature and over current
Lock key to prevent unintentional modification of the settings
Easy Knob to navigate the menu and to activate the stirring
OHS 100 Advance is designed for the longest lifespan and guaranteed by 3 years warranty
Best-in-Class-Performance
3.5" TFT display encompassing a great set of information always at a glance
Brushless motor ensures stable torque of 100 Ncm through the whole speed range
Electronic speed control from 30 to 1300 rpm
Maximum volume of 100 liters
Maximum viscosity of 70.000 mPa
SpeedServoTM torque compensation technology
Silent motor even at the maximum speed
State-of-the-Art Features
Set your preferred methods choosing form several options
The new SmartChuckTM makes easy and convenient the shaft changing without any tool
Vibration Sensor with different levels of sensitivity automatically stopping operations
Integrated timer for unattended operation with automatic switch off
Precise Torque measurement on display for real-time information on viscosity change with a resolution of 1 Ncm
Temperature measurement with Pt100 temperature probe
USB interface for installing Software updates
Cloud-Enabled Instrument
Effortlessly connect to the cloud your OHS Advance via WiFi in complete safety
Real time monitoring and notification via VELP Ermes Cloud Platform
Immediate Software Updates (OTA)
Access to your data via PC, smartphone and tablet
Create and share reports, track trend and get useful insights
Recommendations
Consider purchasing stirring shafts to match your product & procedure

Confirm your choice of overhead stirrer by checking the

comparison table
Video
OHS VELP OHS Series Overhead Stirrers
VELP OHS Overhead Stirrers guarantee state-of-the-art stirring power maintaining the maximum torque at any speed and are designed to offer you a solution fitting your application including continuous work in challenging environments. Discover all the premium features such as Brushless motor, Constant Torque, SmartChuck™, IP54 protection. Watch now the video!
Contact
Via Stazione 16
20865 Usmate (MB)
ITALY
Tel. +39 039 62 88 11
Fax. +39 039 62 88 120