News
Premium Quality Lab Equipment Now with a 3-Year Warranty
Jan. 17, 2018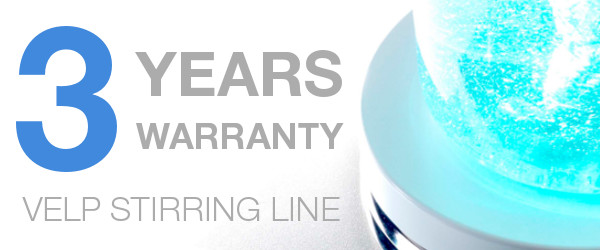 At VELP we design and manufacture analytical instruments and laboratory equipment with the mission of ensuring high performance and reliability to laboratories worldwide. We are trusted partners of millions of scientists that rely on VELP equipment for their daily work.
We want to offer scientists complete peace of mind by introducing for 2018: 3-year warranty for all the products of VELP Stirring Line. This is another step ahead of VELP and reflects the confidence we have in our products resulting from years of continuous product improvement and proven track record in the laboratory industry.
Claiming your 3-year warranty for your VELP product is fast and simple:
Register/Login to your VELP Account
Select the option PRODUCT REGISTRATION
Enter the requested product information (Serial Number, Product Code, Purchase date)
An email will confirm the successful registration.
Validation of the 3-year warranty for each product requires registration within 60 days from the purchase date. A copy of proof of purchase (invoice) will be requested in order to benefit from Technical Services during the warranty period.
Enjoy your experience with VELP Stirring & Mixing equipment: PREMIUM QUALITY NOW WITH 3 YEARS WARRANTY!
Have you purchased a Stirring Line instrument in 2018? Register your Product Now
Contact
Via Stazione 16
20865 Usmate (MB)
ITALY
Tel. +39 039 62 88 11
Fax. +39 039 62 88 120