News
AREX-6 Connect PRO - The First Hot Plate Stirrer Connected to The Cloud
Jul. 20, 2018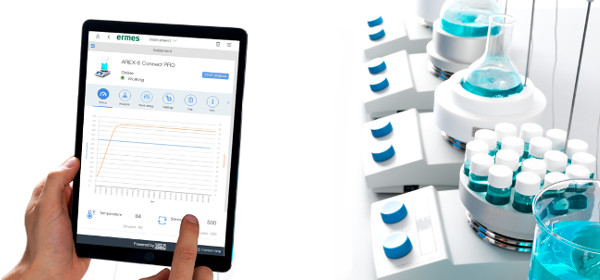 VELP is proud to present the AREX-6 Connect PRO, the first cloud enabled hot plate stirrer with superior heating & stirring performance and absolute safety.
The AREX-6 Connect PRO allows real time monitoring of speed and thermoregulation, extensive data logging for maximum efficiency and analysis reproducibility.
You will be able to create and share reports anytime, anywhere and be sure to be always informed thanks to the event and alarm notifications.
The AREX-6 Connect PRO is easy to configure and to connect to VELP Ermes Cloud Platform with WiFi connectivity. For the first time a hot plate stirrer will benefit of immediate software update (over-the-air) and enhanced service.
CONNECT YOUR AREX-6 CONNECT PRO BEFORE DECEMBER 31st 2018 TO BENEFIT OF 1 YEAR CONNECTION FREE OF CHARGE!
Should you have any further requests do not hesitate to contact us.
Contact
Via Stazione 16
20865 Usmate (MB)
ITALY
Tel. +39 039 62 88 11
Fax. +39 039 62 88 120